August 11, 2005
Used Vehicle Review:
Toyota Sienna, 1998-2003
By Chris Chase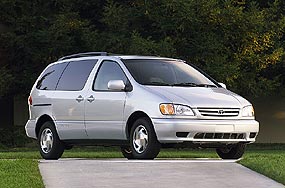 2002 Toyota Sienna. Click image to enlarge

Over the years, Toyota has established itself as a manufacturer of some of the best road-going appliances you can buy. Excitement is reserved for a select few sporty vehicles, while the rest of their cars and trucks are predictably durable and efficient mainstream vehicles.



But Toyota has, periodically, come out with some real oddball vehicles. Two that come to mind right away are the automaker's first two minivans. The first was known in Canada simply as the Toyota "van" (apparently creativity wasn't one of the Toyota's strong points in 1980s), and the second was the jellybean-cum-minivan known as the Previa. It shared the same odd mid-engine configuration as the "van", which placed the four-cylinder motor under the front seats. Ostensibly an attempt to make Toyota's entry into the uber-competitive 1990s minivan segment stand out, the Previa didn't appeal to many minivan buyers, whose tastes then as now, tended to run to the conservative side.

Toyota didn't surprise too many people in 1998 when it launched the Sienna, which would become Toyota's first mainstream - and seriously competitive - attempt at building a family hauler. Out went the Previa's weird shape and in came the far more conventional Sienna. It was obvious that unconventional was unwanted in the minivan segment and that Toyota needed a "normal" minivan if it was to capture a significant share of the market. In fact, the Sienna is what Toyota's take on the minivan should have been all along. No one buys minivans for excitement; these boxes on wheels are simply useful, and buyers expect them to be a reliable way to transport a family and all the things that go along with families. So given that Toyota's known for the quality of its vehicles, doesn't a nice, average Toyota minivan just seem natural?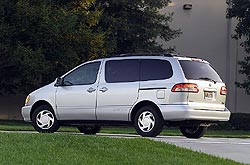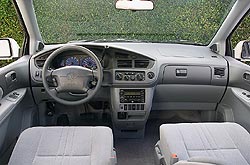 2002 Toyota Sienna. Click image to enlarge

For sure, the Sienna was about as normal as minivans came in the late 1990s, featuring a 3.0-litre V6 engine producing anywhere from 194 (1998) to 210 horsepower (2003), a four-speed automatic transmission, dual sliding doors, standard ABS and in later years, side airbags that were optional on lower end models and standard equipment on higher trim levels.

But side airbags or not, the Sienna could do no wrong safety-wise, at least not so far as the U.S. National Highway Traffic Safety Administration was concerned. The Sienna scored very highly in NHTSA crash tests, earning five stars for driver and front passenger protection in frontal crashes, and four stars for front seat occupants and five for rear seat passengers in side impact tests.

Fuel economy was slightly better-than-average for the class at the time, with the Sienna's V6 using about 12.5 L/100 km in the city and 8 L/100 km on the highway.

The Sienna has earned Consumer Reports "recommended" rating as a used vehicle based on the magazine's reliability data. It cites the brakes, electrical system and body integrity as the items to look out for on older models, but Siennas built between 2000 and 2002 get high marks from the magazine in all categories.

Oddly, 2003 models specifically aren't recommended due to what CR considers too many trouble spots for such a new vehicle, so keep that in mind when shopping. Chances are that a well-maintained example will be as trouble-free as Toyota's reputation would suggest, however. Regardless of what Consumer Reports thinks, however, it's telling that nary a recall was issued for these vans.

Of course, that reputation for durability precedes the Sienna when it comes to resale values. You can expect to pay far more for one of these vans second hand than you would for a comparably equipped domestic minivan. Much of that has to do with build quality, of course, and for many parents buying a vehicle like this, reliability is probably going to be a priority.

Depending on trim level and options, Canadian Red Book values a 1998 Sienna at anywhere between $9,025 and $9,925, which works out to 34 or 35 per cent of M.S.R.P. At the other end of the spectrum, a 2003 is worth between $21,225 and $26,425, or anywhere from 66 to 72 per cent of the original asking price.

As a class of vehicle, the minivan is the kind of vehicle you expect to use, rather than enjoy, and no one has mastered the art of building useful vehicles like Toyota has. Put the two together and its no surprise that the Sienna should be the result.

On-line resources

www.toyotanation.com - Toyota Nation is a Toronto-based Toyota website that boasts 35,000 members. The forums are busy and include a section for Toyota's minivans: the Previa and both generations of Sienna. This is certainly among the best Toyota websites out there. Registration is free.