July 28, 2005
Used Vehicle Review:
Mitsubishi Eclipse, 2003 - 2005
By Chris Chase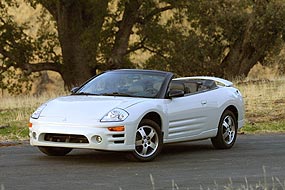 2003 Mitsubishi Eclipse Spyder. Click image to enlarge

Mitsubishi, eh? That's that new car company that showed up a few years ago, right?

Well, not quite. Mitsubishi's been around for years - lots of years - but the company only expanded its dealer network north of the 49th parallel in 2003. Its products are no strangers to Canadian soil, however. Through a close relationship with Chrysler Corporation, several of Mitsubishi's cars have been sold in Canada bearing Dodge, Plymouth and Eagle nameplates and Mitsubishi technology was also the basis for just about every Hyundai made prior to 1995.




But perhaps the best known of Mitsubishi's "Canadian-ized" cars is the Eclipse, a sporty little coupe which was sold here between 1991 and 1999 as the Eagle Talon and Plymouth Laser and gained a reputation for the turbocharged engine and all-wheel-drive system found on top-of-the-line models.

The year 2000 saw Mitsubishi take a vastly different approach with the third generation of its sporty coupe, giving it a more relaxed demeanor and marketing it toward drivers more concerned with good looks and comfortable cruising than outright performance. It was also the first Eclipse not to be imported into Canada in some form, but that changed two years ago when Mitsubishi dealers started springing up across Canada.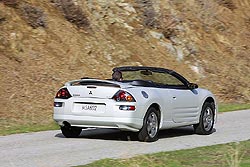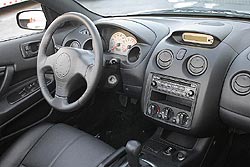 2003 Mitsubishi Eclipse Spyder. Click image to enlarge

Looks are subjective, but there's no denying that this third generation Eclipse stands out thanks to its sharp angles and aggressive front fascia. However, it should be noted that while this was a new car to the Canadian market, its design was already three years old when it went on sale here.

The 2003 Eclipse was available as a coupe and convertible, and with one of two engines: a 2.4 litre four-cylinder making 147 horsepower, and a 200-horsepower, 3.0 litre V6. Either engine could be paired up with a five-speed manual transmission or a four-speed automatic. Coupes were designated as RS or GS for four-cylinder models, and GT or GT Premium for V6 cars. Convertibles were either GS or GT Premium models.

RS and GS models got front disc brakes and rear drums, while the GT and GT Premium got discs all around, and only the top-of-the-line GT Premium coupe and droptop models got ABS as standard equipment. Lower end models did without entirely, even as an option. Side airbags were offered only as a standard feature on GT Premium models. Traction control was standard on the GT Premium coupe in 2003 and 2004, and was an option available only on the 2005 coupe and convertibles from all years.

Air conditioning was standard across the line, and cruise was standard on all models but the RS coupe.

So what about the good, bad and the ugly? Actually, there's not too much bad or ugly going on here. U.S. National Highway Traffic Safety Administration (NHTSA) crash testing revealed the Eclipse to be a pretty safe, solid car. It scored four stars for driver and front passenger protection in frontal impact tests, and three stars for side impact protection for front seat occupants. The NHTSA didn't do rear seat side impact tests, citing a back seat that was too small to bother.

Fuel economy is alright for a sporty car, but the Eclipse is one of those vehicles where consumption may not dictate your choice of engine, especially not if you want the automatic transmission. With that transmission mated to the six-cylinder engine, the Eclipse is rated at 7.9 L/100 km highway, and 12 L/100 km city. The four cylinder returns only marginally better city economy (11.7 L/100 km) and actually does worse on the highway (8.3 L/100 km). The four-cylinder gains a stronger fuel economy advantage when considering manual transmission models, but even then it's only significant in the city - 11.5 L/100 km (7.6 L/100 km highway) for the V6 versus 10.1 L/100 km (6.9 L/100 km highway) for the four banger. Keep in mind, though, that the Eclipse's six-cylinder prefers premium fuel while the four-cylinder uses the cheap stuff.

For the three model years the Eclipse was sold in Canada, Consumer Reports only has reliability data for 2003 cars, to which it granted an "average" rating.

Money-wise, Canadian Red Book value for a 2003 GT Premium coupe is $21,150, which works out to 62 per cent of its M.S.R.P. If you find the Eclipse coupe is out of your price range, check out a Hyundai Tiburon. Brand new they were significantly cheaper than the Eclipse, which means lower resale values, and while the Tiburon's not available as a droptop and its four-cylinder and optional V6 engines give up a little power to the Mitsubishi motors, they offer similar fuel economy and the two cars even look like they could be related.

Mitsubishi's in a bit of a financial fix right now, so it's hard to say where the company will be in a few years time. If it were to go under, it will probably have a negative effect on resale values, and it may make it difficult to find parts (though that's hard to say for sure). Only you know what you value in a used car, but the Eclipse offers sporty looks and the potential for decent performance in a reasonably affordable package.

On-Line Resources

www.mitsubishiforum.com - This site features a section dedicated to the Eclipse, but count on having to weed through a lot of info about the first and second generation models, which share nothing but a name with the model discussed in this review. That said, this is the busiest section of the site, so it might be worthwhile to dig around for the information you're looking for.

www.mitsubishi-forums.com - If you don't like what you see at the first site listed, add a hyphen and another "s" to the url to get here, where the site designers have seen fit to split the Eclipse section into two parts - one for 1991-1999 cars and another for the vastly different 2000 and up models. Also, more than 10,000 members call this site home, compared to not even 4,500 at that other hyphen-deficient site.

Pricing

Red Book Pricing (avg. retail) January 2005:
| | | | |
| --- | --- | --- | --- |
| Year | Model | Price today | Price new |
| 2005 | Spyder GT Premium | $35,175 | $41,248 |
| 2004 | GT Premium coupe | $25,300 | $34,448 |
| 2004 | Spyder GT Premium | $31,050 | $41,098 |
| 2003 | GT Premium coupe | $21,150 | $34,287 |
| 2003 | Spyder GT Premium | $26,900 | $40,987 |
Recalls
Transport Canada Recall Number 2003277; Units affected: 635
2004: On certain vehicles, the fuel return line hose fitting on the electric fuel pump may be restricted, causing excessive fuel pressure to build up in the fuel injection system. Excessive fuel pressure may result in the fuel return hose becoming dislodged, resulting in fuel leakage. Fuel leakage in the presence of an ignition source could result in a fire. Correction: Dealer will inspect the fuel pump pressure. Those vehicles exhibiting higher than normal fuel pump pressure will receive fuel pump modifications.
Used vehicle prices vary depending on factors such as general condition, odometer reading, usage history and options fitted. Always have a used vehicle checked by an experienced auto technician before you buy.