July 7, 2005
Used Vehicle Review:
Kia Sedona, 2002-2005
By Chris Chase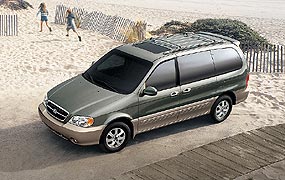 2004 Kia Sedona. Click image to enlarge

Like any new auto manufacturer, Kia started out small when it brought its first cars to North America and tempted us with cheap prices and long warranties. But an automaker can't survive on a vehicle line-up consisting only of small cars (the Rio and the larger Sephia and Spectra) and a lacklustre compact SUV (the original Sportage). That's probably one reason why Kia almost disappeared from this continent a few years ago, before Hyundai scooped Kia out of the deep end and breathed new life into the company, turning its former competitor - and the only other South Korean car maker left on this continent - into a second line of vehicles mostly based on Hyundai engineering.





While most of these new Kias were little more than restyled and re-badged Hyundais, the parent company decided used the Kia nameplate in 2002 to explore an automotive segment completely foreign for a Korean brand.

The 2002 Kia Sedona was the first minivan to come to Canada from South Korea. If going after the minivan market was new for Kia (and Hyundai), their approach was nothing if not familiar: build an unassuming-looking vehicle with plain looks sure to appeal to many buyers, and sell it at a price that undercuts the competition. Where have we heard that one before?

In 2002, the Sedona's M.S.R.P. was $24,995, lower than that of every other minivan on the market by at least a few hundred dollars. In fact, the asking price for a top-of-the-line Sedona was cheaper than what Honda wanted for its base model Odyssey. So you get the point - the Sedona was cheap.

Size-wise, it slotted in nicely between the short- and long-wheelbase minivans: smaller than an Odyssey, larger than a Caravan, and about the same size as the previous generation Toyota Sienna. The Sedona featured lots of standard equipment including some items that were optional in competing vans. However, ABS was optional on the base model LX, and standard only on the uplevel EX, and side airbags and traction control were never offered.

The term 'fully loaded' applies here in more ways than one however, as the Sedona was no lightweight, tipping the scales at a hefty 2,136 kg. Compare that to the Odyssey's 1,990 kg curb weight or the Grand Caravan's 1,881 kg, both of which are larger. The similarly-sized Sienna weighed in a comparatively svelte 1,780 kg.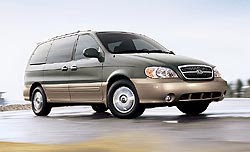 2004 Kia Sedona. Click image to enlarge

All that weight put a lot of strain on the Sedona's 3.5 litre V6, which valiantly pumped out 195 inertia-busting horsepower. But as you might guess, all that inertia busting took its toll on fuel economy: Early Sedonas were rated at 15.6 L/100 km (city) and 10.9 L/100 km (highway), but the numbers improved slightly to 14.8 L/100 km (city) and 9.6 L/100 km (highway) for 2005 models. Nevertheless, the Sedona drank more gasoline per kilometre than its competitors, some of which also had more power to boot.

But the news isn't all bad. One benefit to that heavy curb weight showed up in the Sedona's admirable performance in U.S. National Highway Traffic Safety Administration crash testing, where it earned five stars across the board: driver and passenger protection in frontal impacts, and front and rear seat occupant protection in side impacts.

Its competitive prices when new and steep depreciation have combined to make a used Sedona an attractive deal. A 2002 EX model that went for $27,595 back then is now worth $14,625 according to Canadian Red Book, 53 per cent of its original value. Even a 2005 Sedona with the EX Luxury package is worth $25,000 now, 79 per cent of its original sticker price of $31,695. Those prices are cheaper than those of other import minivans, notably the Honda Odyssey and Toyota Sienna.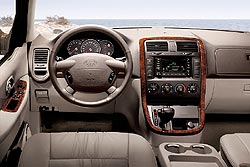 2004 Kia Sedona. Click image to enlarge

The Sedona was subject to a few recalls (the details of which can be found at the end of this article) but seems to have benefited somewhat from the quality crusade that Hyundai embarked upon in the years previous to the Sedona's 2002 introduction. While Consumer Reports states that the basics (including the drivetrain) are okay, it cites electrical system, power equipment and body integrity issues in 2002 Sedonas and as a result recommends against buying one built that year. The magazine gives 2003 models an "average" reliability ranking overall, but didn't have enough data to accurately rate 2004 models.

For its first time venturing into the deep waters of the minivan market, Kia did an okay job with the Sedona, building a safe and fairly reliable vehicle whose main fault was a little too much heft to haul around. It didn't set a new high water mark for minivan innovation, but its low resale values make it a hard-to-resist and prudent choice for someone wanting a used family hauler at a low price.

Pricing

Red Book Pricing (avg. retail) July 2005:
| | | | |
| --- | --- | --- | --- |
| Year | Model | Price today | Price new |
| 2005 | EX | $23,175 | $29,495 |
| 2004 | EX | $20,525 | $28,995 |
| 2003 | EX | $17,825 | $28,295 |
| 2002 | EX | $14,625 | $27,595 |