August 4, 2005
Used Vehicle Review:
Ford Taurus, 1996-2005
By Chris Chase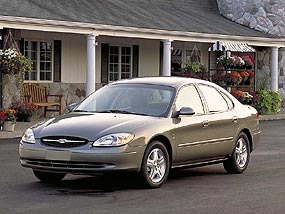 2002 Ford Taurus SEL. Click image to enlarge

Not everyone's perfect. And certainly not every auto manufacturer is either. After all, if they were, the world would be a pretty boring place, so in that sense, it's a really good thing the Ford Taurus exists .



The Taurus has been a strong seller in the mid-size sedan field, competing against the likes of class benchmarks like the Toyota Camry and Honda Accord. You have to wonder why, though. Maybe buyers found the Taurus to be competitively priced, and others may have liked the idea of a domestic car, built by North Americans. Or maybe it's the bland styling that's drawn thousands upon thousands to Ford dealerships over the years to buy one of these simple but uninspiring cars. Whatever the case, it certainly wasn't the Taurus' reliability history that kept buyers coming, but I'll get to that later.

In 1996, Ford managed to create a Taurus that did inspire - inspire strong opinions about its looks, that is. That was the year Ford took the Taurus' familiar shape and turned it into something that looked as though it had been left out in the sun to melt. The car was basically one big oval: oval headlights, oval taillights... even the radio and climate controls inhabited a big oval in the centre of the dashboard.

The new shape was an experiment on Ford's part to see if it could set its mainstream family car apart from the crowd. Unfortunately, it didn't work and Taurus sales reflected that when the Camry became the best selling car in North America, a title the Taurus had held for many years.

"Operation: Oval" lasted until 1999, and 2000 saw the launch of "Operation: Are We Ever In Trouble" and the introduction of a heavily face-lifted Taurus with looks much better suited to the expectations of mid-size sedan customers. The oval head- and taillights were scrapped for more traditional looking ones, and the radio and HVAC controls got a new home in a more conventional looking dashboard.

Truth be told, the Taurus offered something that its import competitors didn't for most of the years between 1996 and 2005: a station wagon body style. The Accord wagon disappeared before Ford entered its oval phase and 1996 was the final year for the Camry wagon. That left the Taurus wagon pretty much on its own in the class as an alternative to minivans and the SUVs that were gaining popularity by the mid-1990s.

The Taurus was available with one of two engines during this 10-year period. Basic models got the wheezy 3.0 litre Vulcan V6 that powered everything from Aerostars to Ranger pick-up trucks and dated back to the original 1986 Taurus. In models from 1996 through 1999, it produced an asthmatic 145 horsepower. In 2000, the Vulcan got a small horsepower boost to 153. How it managed to survive right up until the 2005 model year - when most of the Taurus' four-cylinder competitors had more power - is a mystery.

The preferable Taurus engine choice was also a 3.0 litre, but in this case the more modern twin cam Duratech, which produced a far more class-competitive 200 horsepower.

With either engine, fuel economy is about the same: around 12 L/100 km in city driving and about 8 L/100 km on the highway, which is competitive with V6-equipped Accords and Camrys (four-cylinder models of those cars are better on gas but don't have as much low-end grunt as the Ford's Vulcan V6).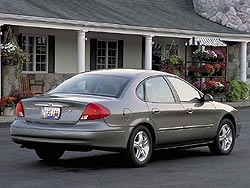 2002 Ford Taurus SEL. Click image to enlarge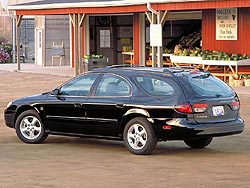 2002 Ford Taurus SE wagon. Click image to enlarge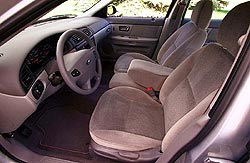 2001 Ford Taurus SEL. Click image to enlarge

U.S. National Highway Traffic Safety Administration crash test results show the Taurus to hold up fairly well in collisions. Early models (1996-1998) scored four stars each for driver and front passenger protection in frontal impacts, and three stars each for front and rear seat occupant protection in side impacts. In 1999, the Taurus' side impact scores remained the same, but its frontal impact rating increased to five stars each for driver and front passenger protection. Finally, 2004 and 2005 versions earned four stars for the driver and five for the front passenger in frontal impacts. Once again, it earned double threes in side impact protection.

It's worth noting that while side airbags were optional on Tauruses starting in 2000, their presence or absence doesn't affect NHTSA crash test scores. ABS was an option until 1999, and became standard equipment on all but base models starting in 2000.

On reliability: as I mentioned above, the Taurus is not known for its long-term durability, a sentiment reflected in Consumer Reports' opinion of it. The magazine gives it an average rating across the board but cites many trouble spots ranging from faulty transmissions (especially in older models), a wonky fuel delivery system, and electrical, brake and suspension issues. The Taurus was subject to well over 20 recalls during this 10-year timeframe, so it would be worth making sure any that apply to a prospective purchase have been addressed.

The Taurus' troublesome nature is tempered somewhat by abysmal resale values that are typical of domestic cars. Take a 2004 Taurus SEL Premium station wagon: Canadian Red Book values it at $17,500 today, or 56 per cent of its M.S.R.P. and a depressing prospect for anyone stuck with one they bought new. If you're interested in a used Taurus, look for a 2003 or newer model with some of the original warranty left to spare yourself expensive repairs, at least in the short term. Canadian Red Book values 2003 models from just under $14,000 to a little over $15,000.

It's safe enough to say that a used Taurus isn't the best choice out there. While its low price and availability as a station wagon can make one seem like an attractive alternative to more expensive import models, the Taurus' poor reliability history make it a used car that's best avoided. If dependability is a primary concern (how could it not be?), a slightly older Accord or Camry - or even a Nissan Altima - would be a far wiser choice.

Pricing

Red Book Pricing (avg. retail) August 2005:
| | | | |
| --- | --- | --- | --- |
| Year | Model | Price today | Price new |
| 2005 | SEL sedan | $19,150 | $28,595 |
| 2004 | SEL sedan | $16,425 | $28,440 |
| 2003 | SEL sedan | $14,175 | $28,090 |
| 2002 | SEL sedan | $11,550 | $27,520 |
| 2001 | SEL sedan | $9,900 | $27,020 |
| 2000 | SEL sedan | $7,475 | $26,495 |
| 1999 | SE sedan | $5,650 | $24,195 |
| 1998 | SE sedan | $4,425 | $23,996 |
| 1997 | LX sedan | $3,625 | $26,195 |
| 1996 | LX sedan | $3,225 | $26,555 |
On-line resources
www.fordforums.com - The Taurus is hardly a car that inspires a lot of enthusiasm among owners, so it's no surprise that there isn't much out there in terms of Taurus enthusiast web sites. The closest thing you'll likely find is this site, which covers all Ford models. The Taurus is represented with a section dedicated to it and its Mercury Sable sibling, but there's not a lot of action there. www.ford-forums.com - But wait! There is another website with a place for Taurus owners to commiserate. This, like the non-hyphenated site above, covers all Ford models and has a section dedicated to the Taurus, but don't get your hopes up: this one's pretty quiet too.
Recalls
Transport Canada Recall Number: 1996084 Units affected: 6,307
1996: For vehicles equipped with ford AX4S automatic transaxles: the park pawl shaft may have been improperly positioned during transmission assembly. This could result in the park pawl not engaging when the transmission selector is placed in the park position. This could allow the vehicle to roll as if in neutral if the vehicle operator does not apply the parking brake. Correction: vehicles will be inspected and if necessary the park pawl shaft roll pin and park pawl shaft will be replaced.
Transport Canada Recall Number: 1996034 Units affected: 4,960
1996: These vehicles may not comply with C.M.V.S.S. 105 - hydraulic brake systems. The brake system fluid level indicator may malfunction which could cause the brake system warning lamp to: (1) remain illuminated continuously, or (2) fail to illuminate as intended should the fluid level fall to a certain level. Correction: brake system fluid level indicator lamp switches will be replaced on affected vehicles.
Transport Canada Recall Number: 1996148 Units affected: 17,222
1996: The automatic transaxle park mechanism may not prevent the vehicle from rolling even if the transaxle shift lever is firmly placed in the "park" position. If the driver is unaware that the park mechanism of the transaxle has not properly engaged and leaves the vehicle unattended without setting the parking brake, the vehicle could be free to roll as if in neutral. This could result in a crash without prior warning. Correction: park mechanism will be inspected and, if necessary, a new park pawl shaft will be installed in the transaxle.
Transport Canada Recall Number: 1998114 Units affected: 18
1996: Vehicles that were serviced for a stall condition between August 1, 1997 and December 1, 1997 may have received an incorrect fuel tank. The incorrect tank contains an additional vent hole which provides the potential for a fuel leak. Correction: vehicles will be inspected and fuel tank will be replaced with the correct tank if necessary.
Transport Canada Recall Number: 1996135 Units affected: 2,391
1996-1997: The park pawl abutment bracket has a sharp edge which may cause the parking pawl to hang up and not engage the park gear. This may cause the vehicle to move even though the gear shift indicator shows that the vehicle is in park. As a result, unintended and unexpected vehicle movement could occur with the possibility of personal injury and property damage. Correction: dealers will inspect and, if necessary, replace the park pawl abutment bracket on affected vehicles.
Transport Canada Recall Number: 1997047 Units affected: 36
1996: Note: flexible fuel vehicles. A seal for the fuel delivery module wiring harness connector may swell in the presence of unleaded fuel and force the connector apart creating an open circuit. This would result in loss of fuel pump operation and fuel pressure. In addition, the vapour control valves, located on the fuel tank may not operate properly resulting in vapour emissions in excess of the standard. Correction: wiring connector seal and fuel tank vapour vent valve assembly will be replaced.
Transport Canada Recall Number: 1996124 Units affected: 209
1996: The fuel pressure regulator diaphragm may rupture. Should this occur, engine damage or fuel leakage could result. Fuel leakage in the presence of an ignition source could potentially result in a fire. Correction: vehicles will be inspected and fuel pressure regulators will be replaced where required.
Transport Canada Recall Number: 1997124 Units affected: 10,607
1997: note: vehicles equipped with the AX4S automatic transaxle. These transaxles are equipped with low/intermediate servo covers that can separate from the transaxle while the vehicle is being driven. If this occurs, the transmission fluid will be expelled and can contact the catalytic converter. This can result in a vehicle fire. Correction: servo cover will be replaced on affected vehicles.
Transport Canada Recall Number: 1998050 Units affected: 45,205
1997-1998: these vehicles do not comply with C.M.V.S.S. 108 - lighting system and retro-reflective devices. The headlight aiming instructions provided in the owner guides are not sufficiently clear. Correction: revised owner guides will be mailed to owners.
Transport Canada Recall Number: 1998173 Units affected: 308
1998-1999: These vehicles may have a front seat belt buckle attaching stud that may have been improperly heat treated. This heat treating may have resulted in cracks developing in the stud. If the stud is cracked, there is the potential for less than the intended level of occupant restraint in the event of a vehicle crash. Correction: seat belt buckle mounting bracket and stud assembly will be replaced on affected vehicles.
Transport Canada Recall Number: 1998182 Units affected: 32
1999: The dash insulator retainer may not have been fully engaged. The retainer may disengage, and in some cases it could become lodged above the accelerator pedal pivot. This could prevent the engine from fully returning to idle. Correction: vehicles will be inspected for proper installation of the dash insulator retainer and re-install if required.
Transport Canada Recall Number: 1999176 Units affected: 1,889
1999: On certain vehicles, the seat belt retractor in certain seating positions may have a pin shaft in the switchable ELR/ALR(emergency locking retractor/automatic locking retractor) mechanism that is incorrectly formed. In some circumstances, the switching mechanism could become non-functional, which could prevent the seat belt webbing from being extracted from the retractor. Correction: Affected vehicles will be inspected and suspect lap and shoulder belt assemblies will be replaced.
Transport Canada Recall Number: 2004252 Units affected: 59,758
1999-2001: On certain vehicles, the front coil springs may fracture when operated in high corrosion areas (where salt is used on the roadways in winter). The potential for corrosion causing a spring to fracture increases with the number of kilometres and years in service on the vehicle. A fractured spring could move past the spring seat and contact a front tire causing a rupture resulting in a rapid air loss. Correction: For vehicles sold in or are currently registered in the provinces of Ontario, Quebec, New Brunswick, Prince Edward Island, Nova Scotia, Newfoundland and Labrador, dealers will install protective spring shields as specified in recall campaign 04S17. In addition, Ford will notify nationwide all 1999 to 2001 Taurus and Sable owners of a Customer Satisfaction Program 04M04 in which Ford will provide additional repair coverage for replacement of fractured front coil springs for a period of 10 years from the original date of sale of the vehicle, or up to 240,000 kilometres, whichever occurs first.
Transport Canada Recall Number: 2001044 Units affected: 3,853
2000-2001: Certain vehicles equipped with deck lid mounted rear spoilers do not comply with the requirements of CMVSS 108 - Lighting System and Retroreflective Devices. With the ignition key in the run or start positions, and the hazard lights turned on, the spoiler mounted centre high mounted stop lamp is activated at a reduced intensity without depressing the brake pedal. In addition, under these same circumstances, the brake-shift interlock can be circumvented. Correction: Dealers will install a jumper/resistor assembly at the spoiler.
Transport Canada Recall Number: 2001067 Units affected: 23,561
2000-2001: On certain vehicles, the adjustable pedal assembly may have excess grease that could potentially enter the stop lamp switch and contaminate the contacts. This could lead to a build up of carbon, and potentially a short circuit. A short circuit could either cause the stop lamps to remain on, or cause a loss of stop lamp function. Correction: Brake lamp switch will be replaced and excess grease will be wiped off the adjustable pedal assembly.
Transport Canada Recall Number: 2001068 Units affected: 5,235
2000: On certain vehicles, the headlamp switch knob may have been moulded from a plastic material that is more brittle than the intended material. This material may be overstressed when the knob is installed on the switch, leading to a later fracture, and in some cases, separation of the knob from the headlamp switch. If this should occur, it may be difficult for the driver to activate the headlamps. Correction: Headlamp switch knob will be replaced with one made of the intended material.
Transport Canada Recall Number: 2001204 Units affected: 83,005
2000-2001: Certain passenger cars, sport utility vehicles, and light and medium duty pickup trucks. A switch located in the plastic cover of the wiper motor gear case could malfunction and overheat, potentially resulting in loss of intermittent wiper function, loss of wiper park function, complete loss of wiper function, smoke or, potentially, ignition of the plastic cover material. Switch malfunction is most likely to occur when the intermittent setting of the wipers is being used, or when snow or ice obstructs the blades from returning to the "parked" position at the bottom of the windshield. Loss of visibility while driving increases the risk of a crash. Correction: Dealers will inspect the date code on the wiper motor. Motors built with the suspect time frame will have the wiper motor gear case cover replaced.
Transport Canada Recall Number: 2002187 Units affected: 40,145
2000-2002: On certain vehicles equipped with adjustable pedals, the manufacturing process of the subject Taurus adjustable pedal assembly resulted in variability in lateral pedal spacing ranging from 41 mm to 85 mm. Discussions with drivers of vehicles with adjustable pedals disclosed that some were unfamiliar with the feature. Decreased brake to accelerator pedal spacing may increase the risk of simultaneous application of the brake and accelerator pedals which may cause a collision, injuries or death. Correction: Owners will be instructed as to the proper way to set the position of the pedals and to take their vehicles to a dealer to have the spacing between the brake and accelerator pedal measured. If the spacing is found to be less than 50 mm, the dealer will adjust the pedals to increase the distance between them to greater than 50 mm.
Transport Canada Recall Number: 2004092 Units affected: 70,813
2000-2003: On certain vehicles, a malfunctioning stop lamp switch and/or associated wiring may render the stop lamps inoperable or cause them to stay on all the time. If the switch and/or wiring fail in the open position, the brake lights will not activate and the driver will not be able to shift the vehicle out of park. If they fail in the closed position, the brake lights will remain on, which will not allow the speed control to be activated. This could also cause the battery to discharge. Correction: Dealer will install a newly designed stop lamp switch and wire assembly.
Transport Canada Recall Number: 2001132 Units affected: 163
2001: On certain vehicles, the seat belt buckle tongue may not fully eject from the buckle assembly when the release button is pushed slowly. This condition could also result in a partial latch of the tongue in the buckle. In the event of a vehicle crash, the vehicle occupant may not be properly restrained, possibly resulting in personal injury or death. Correction: Dealers will replace the driver and right front passenger seat belt buckles.
Transport Canada Recall Number: 2004091 Units affected: 15,880
2003: The process used to manufacture the air filter paper was altered during the 2003 model year production, which resulted in an air filter paper element that can smoulder or burn. This change in air filter paper composition combined with the relatively short straight air induction system employed, under certain circumstances, may allow hot carbon debris to be transported to the air filter element during a backflow event. These hot particles may ignite the air filter element with the potential for air induction system damage and/or underhood fire. Correction: Dealer will replace the air filter element.
Transport Canada Recall Number: 2004237 Units affected: 1,549
2004: On certain vehicles, the power seat track may contain fewer welds than specified between the track recliner bracket and the lower support bracket. This condition may cause a squeak/rattle condition to develop, and possibly result in a loose seat. In the rare circumstance that a vehicle having a seat with insufficient multiple welds is in a collision, the seat may not perform as intended potentially increasing the risk of an injury. Correction: Dealers will replace the upper support assembly on all power seat track assemblies.
Transport Canada Recall Number: 2000280 Units affected: 3,357
2000: Certain vehicles do not comply with the requirements of CMVSS. 110 - Tire Selection and Rims. The "vehicle capacity mass " and "designated seating capacity" information was not printed on the safety certification labels. Correction: Owners will be provided with a supplemental label, along with instructions for affixing the label adjacent to the vehicle certification label.
Used vehicle prices vary depending on factors such as general condition, odometer reading, usage history and options fitted. Always have a used vehicle checked by an experienced auto technician before you buy.