July 21, 2005
Used Vehicle Review:
Acura 1.7EL, 2001 - 2005
By Chris Chase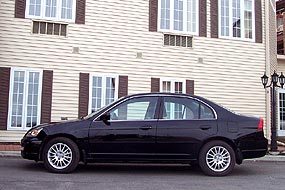 Click image to enlarge

As Canadians, we're unique for a lot of reasons: We eat beaver tails, we put images of wild animals on our coins and we all live in igloos (well, according to some Americans, at least). Honda's Acura division gave us another reason in 1997 - one that actually makes some of our neighbours south of the border a little jealous.





The Civic-based 1997 Acura 1.6EL (so named for its 1.6 litre engine) was aimed at a cost-conscious Canadian marketplace that Honda believed was ready for a classy and compact sedan a little more grown-up than the Integra. And if it being an exclusively Canadian model made some Americans jealous, it flat out confused the rest who, if they saw one, furrowed their brows trying to figure out what they were looking at.

Fast forward to 2001 when a totally redesigned EL appeared in Canadian Acura showrooms to coincide with the arrival of the seventh-generation Civic. Renamed the 1.7EL thanks to a bump in engine displacement, this little sedan took on an even classier look and was available with a range of standard features that were either optional - or not available at all - in a four-door Civic.

While the second-generation EL did share the poor ride that afflicted the new-for-2001 Civic, it also got the Civic's traditionally good traits: exceptional reliability and great fuel economy. U.S.-based Consumer Reports doesn't have reliability stats on the Canada-only EL, but even a quick glance at the magazine's opinion of the 2001-and-up Civic tells you what you already knew. This is one of the most trouble-free cars available today, and its status as one of Consumer Reports' recommended used car buys puts it at the top-of-the-heap reliability-wise among small luxury sedans. Volkswagen's Jetta is a solid small car that coddles, but VWs are renowned for electrical gremlins. The Volvo S40 is about the right size, but far more expensive. Perhaps the only car that can compete with the EL is Infiniti's G20, but you won't find one newer than 2002, that model's last year of production. They're reliable too, per Consumer Reports, but the EL has set a benchmark not even the G20 can match. The 1.7 EL was the subject of three Transport Canada recalls, all for 2001 models.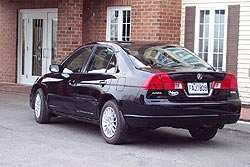 Click image to enlarge

The EL excels in the fuel economy category too. According to Natural Resources Canada's fuel consumption guide, the small Acura's 127-hp engine sips regular unleaded at the miserly rate of 7.7 L/100 km in the city, and 6.2 L/100 km on the highway when hooked up to the five-speed manual transmission (a four-speed automatic was optional). A Jetta equipped with VW's turbodiesel TDI powerplant will get you farther on a tank of fuel, but when overall reliability and trouble-free operation are priorities, the Acura remains the better choice.

Just when you thought you couldn't ask for anything more from a little luxury sedan, you find out how safe it is. Again, due to its being a Canada-only model, the 1.7EL wasn't subjected to U.S. National Highway Traffic Safety Administration crash testing, but its Civic twin was. The Civic posted excellent results, earning five stars for both driver and front passenger protection in front impacts, and four stars each for front and rear seat occupant protection in side impacts.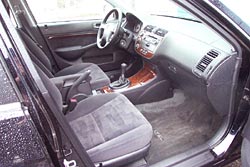 Click image to enlarge

And those crash tests were conducted on a Civic without side airbags, which were a standard a feature on all 1.7 ELs, upping the safety ante even further. Other standard features included air conditioning, cruise, ABS and an anti-theft system. In 2001 models, a sunroof was standard only for Premium models, but was made standard across the line in subsequent years.

Maybe the 1.7EL's only drawback is that, despite being a good deal brand new, it holds onto its value very well - another artifact of its Honda roots. Go back to the 1.7EL's first year of production - 2001 - and Canadian Red Book value for a loaded Premium model is $13,375, or 57 per cent of its M.S.R.P. If you're looking to stay under $20,000, you might get lucky on a 2004 Touring model, which carries a Red Book value of $19,225. If you drive a really hard bargain, might be able to get an uplevel Premium from the same year for under 20 grand, but Red Book value is $20,500.

Small, reliable cars are easy to find, but the EL combines those attributes with a dash of luxury that makes it a rarity not in numbers, but in substance. Being on a budget shouldn't mean you can't drive a classy car and the EL makes sure you can have your cake and eat it too.

Pricing

Red Book Pricing (avg. retail) January 2005:
| | | | |
| --- | --- | --- | --- |
| Year | Model | Price today | Price new |
| 2005 | 1.7EL Premium | $23,075 | $24,600 |
| 2004 | 1.7EL Premium | $20,500 | $24,200 |
| 2003 | 1.7EL Premium | $18,175 | $24,000 |
| 2002 | 1.7EL Premium | $15,425 | $23,700 |
| 2001 | 1.7EL Premium | $13,375 | $23,500 |